What is Self Manager?
Self Manager is an online tool that helps you self manage your NDIS funding, keep records and track your budgets. You can get access to its built-in payroll module to assist with reporting and compliance if you engage support workers as employees. Self Manager is Single Touch Payroll (STP) compliant (currently available to ABN holders only).
Watch this video to learn more:
---


How do I get an account?
Simply select 'Get Started' in the top, right hand corner of this page and follow the instructions in the pop-up window.
When we receive your application, we will contact you via phone or email within 1-2 business days.
You can book a demonstration via a webinar, or face to face at our office in Belmont, WA. The demonstration takes around 30 mins.
We send you a subscription agreement via the online signing platform Panda Doc. This agreement has a demonstration video embedded in it.
Watch this video to learn more:
---


How do I contact you if I need help?
You can email or call our team on the details below:
08 9380 0271 (option 3)
We will get back to you within 1-2 business days.
Self Manager has a detailed Help Section with video assistance that you can access in the main navigation menu, so please check if the answer in this section before you contact us.
---


I have locked myself out of my account. What do I do now?
If you attempt to log in with the wrong password more than three times, your account will be locked temporarily. Wait 30 minutes before you try to log in again.
If you can't remember your password, you can re-set it on the login page by clicking on the Reset my Password button: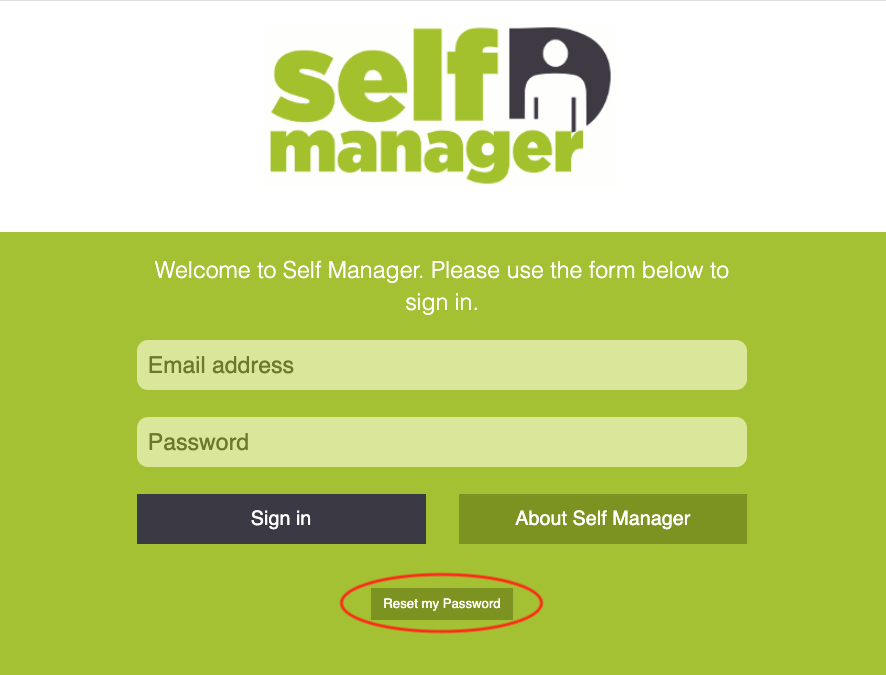 Watch this video to learn more:
---


What is Two Factor Authentication (2FA) and how do I set it up?
You need to set up Two-Factor Authentication on Self-Manager as an added measure of security to protect the information stored on your account.
You set up 2FA on your Dashboard page when you first log into your Self-Manager account. The information about 2FA set-up is available directly below your Account Profile information.
Select Set up, then follow the prompts until the set-up is complete. Make sure you read all the information available at each step before you move to the next step.
Watch this video to learn more:
---


I have lost my phone or want to change my 2FA method. What do I do?
Contact us via phone (08 9380 0271 and press 3) or email us (info@manageit.com.au) so we can help you re-set your 2FA.
---


What is a Sub User on Self Manager?
Subscribers can invite sub users to log into their Self Manager account and act on their behalf. A sub user has their own Self Manager login credentials, and the subscribers can set specific permissions for them to make sure they only have access to the things they want them to do or see on their account.
---


How do I accept a Sub User invite and set up my profile?
When a subscriber adds you as a sub user to their Self Manager account, you will receive an email alert from Self Manager.
Click on the hyper link in the email to respond to the invitation. A new tab will open in your browser.
You need to set up a password for your Self Manager sub user account if you don't have an existing account with us. Enter a secure password, then click on 'Create Account' to complete your set-up.
You will now see the Self Manager login page; which you will access each time you log into your Self Manager sub user account. Enter your email and password and sign in.
Watch this video to learn more: